Spring concert 20 March 2022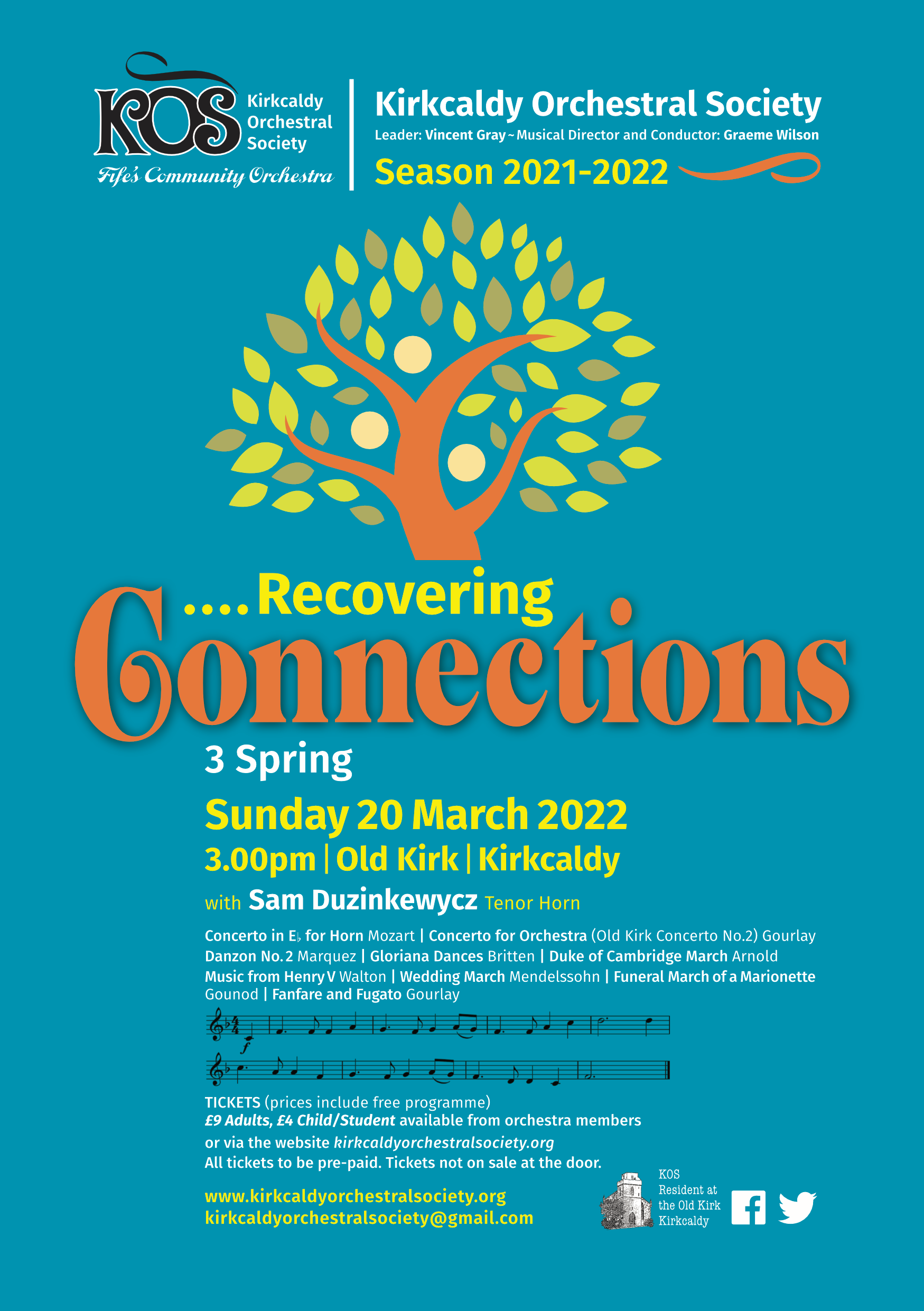 | | |
| --- | --- |
| Type of post: | Orchestra news item |
| Sub-type: | No sub-type |
| Posted By: | Carol Moran |
| Status: | Current |
| Date Posted: | Tue, 1 Mar 2022 |
Although the 'K' in KOS refers to Kirkcaldy Orchestral Society, the strapline 'Fife's Community Orchestra' is a far more descriptive title with members of the group coming from all parts of Fife (Edinburgh as well) and the players reflecting a wide range of experience and age.
The orchestra is now preparing for its Spring 2022 concerts - Sunday 20th March at 3pm in the Old Kirk, Kirkcaldy.
The current season has challenged the orchestra with distancing rules and regs, with venue ventilation and generally keeping up-to-date with all official advice. Despite that, KOS has operated successfully since August 2021 performing in October and at Christmas. The concert on Sunday 20th March has as its focus music which was being prepared for March 2020 but which concert was cancelled as lockdown came into being.
The programme includes Arturo Marquez's Danzon no. 2 - perhaps unfamiliar by name but known to many by its lively and happy sounds, Dances from Benjamin Britten's Gloriana, string music by Walton from Henry V, a windband performance of The Duke of Cambridge's March by Malcolm Arnold and two movements of Mozart's 3rd horn concerto to be played on tenor horn by Sam Duzinkewycz. Sam is a young musician with solo and band successes to his credit and is currently studying law at Edinburgh University.
Significantly, there will also be the first performance of Concerto for Orchestra by John Gourlay written for the orchestra and highlighting the various family elements within an orchestra.
Tickets are priced £9 Adults and £4 Child/Student and are available from members of the Orchestra or via the website kirkcaldyorchestralsociety.org Ticket price includes a free programme. All tickets should be pre-paid and will not be on sale at the door.